Home »

Microfiber Mops
Microfiber Mop- The Maxi-mop Wholesale AS-SEEN-ON-TV Product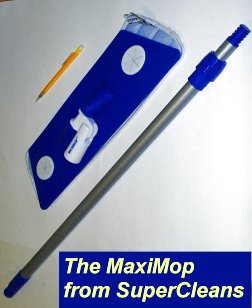 Our wholesale Microfiber Mops (Maximops) have a specially designed head too quickly & easily loosen, lift, and trap dirt and grime like magic while effortlessly gliding across your floor. The 16 inch wide head easily gets around furniture and into tight areas. The Head is low profile so you may clean under furniture easily. It removes dirt, scuff marks, pet hair, spills, grease and more.

Save money over expensive disposable pads while avoiding the use of harsh chemicals in your home with our unique environmentally-friendly product. The Microfiber Mop works dry or with water alone and the durable head is machine washable for your convenience.

The Maximop MicroFiber Mop works on all washable surfaces:
Hardwood Floors
Tile Floors
Vinyl Flooring
Linoleum Floors
and much more
The Maximop microfiber mop cleans faster, easier, better with its 16" cleaning path- use it wet or dry.
Quantity 1 Maximop Microfiber Mop, Handle, and washable Microfiber pad.
Item MM182 Microfiber Maximop
Please contact us for wholesale pricing and orders as this is a wholesale only product.
Order by phone: 1-412-429-1640