Home »

Testimonials

Since 1974 people all over the world have used SUPERCLEANS and love it- we guarantee it. Try it yourself and see- with our money-back guarantee, you've nothing to lose but the dirt.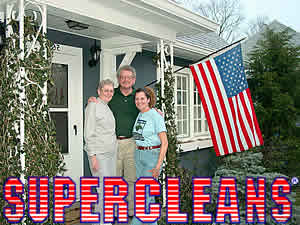 We have SUPERCLEANS- we love it!
Use SUPERCLEANS to replace all the cleaners under your kitchen sink.
Get the power to makes your cleaning tasks fast and easy.
Save time and money with our concentrated powder which make gallons.
Unconditional Money Back Guarantee If not Personally Satisfied!

Take the Guessing Out of Cleaning™- Rug and Upholstery Cleaner Used by Professionals. Removes Pet Stains.
Contains No Soap, No Rinsing Needed; retards resoiling.

Safe and Easy Applications- Can be Used in any carpet cleaning machine (shampoo or steam). Works with the Rug Doctor® machines and save the rinsing steps.
Thanks so much!
I live in Canada (Vancouver BC) and had you send me the sample via my son who lives in Bellevue, Washington. My son comes up here every second week (or so) and on Friday, brought me your sample. The timing was perfect!! We had a big family dinner here last night (Saturday) and when I surveyed the battle scene this morning, I noticed new stains on my light beige carpet that weren't there before. I also happened to know that some of the stains were from a tomato base spread--bad news (I also could tell who the sloppy eaters were)! I knew I had nothing to lose so I whipped up your cleaner and applied it to the stains. It was INCREDIBLE!! They disappeared!! Then we kind of got a little carried away and went around the whole house looking for stains and removing them!!!
Carpet Cleaner......It works Guaranteed!
Rob
Buy SUPERCLEANS
GREAT PRODUCT!!!
I've used SUPERCLEANS on the carpet in the community lounge and it has worked a miracle, all of the stains are gone and the carpet shows no discoloration. I like SUPERCLEANS, it cleaned the carpet well.
Jennifer Bennett
Buy SUPERCLEANS
Carpet Cleaner.....
Wow! you even kept my email address. I'm impressed. Yes, I want more SUPERCLEANS. And I want to know more about selling it. If you still have my visa number, send me the $75 worth to the same address as before and contact me at your nearest convenience to tell me how your sales program works. Thanks,
Jason
Buy SUPERCLEANS
Carpet Cleaner...
"Yes I am interested" People who have seen Supercleans are amazed. I am using the sample you sent to clean some carpet for people and it's better than the product I was using before.
Bob