Home »

Sticky Lint Rollers
The Sticky Lint Roller- Easily Removes dust and Lint- Wholesale AS-SEEN-ON-TV Product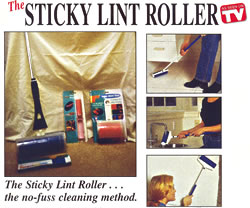 Our Sticky Lint Rollers remove dust and lint from floors, walls, and carpets fast and easily. Our
environmentally friendly
Lint Rollers never need refills and are ready when you need them. To clean, just rinse in water and keep them handy for future use.
3 Versatile Lint Roller sizes:
Pocket Size Lint Roller
Original Sticky Lint Roller
Large Sticky Lint Roller
Perfect for Travelers!
With 3 handy sizes, the Pocket Size Sticky Lint Roller is small enough to take anywhere- ideal for a last second touch-up, the Original size Sticky Lint Roller is super for quick cleanups on clothing and upholstery, and the Large Sticky Lint Roller is a must have for floors and drapes. When you have all three you'll be prepared for whatever messes and save time while helping preserve our environment. You'll love using these Sticky Lint Rollers again and again! Makes a great gift!
Order your Set of 3 Sticky Lint Rollers today and you'll get one of each of our three handy sizes- they regularly sell for
$29.99 on TV
and other web sites. At Supercleans.com the
Set of Three Sticky Lint Rollers is now only $19.99-
and
when you buy the set of three Lint Rollers now we'll also throw in three of our Famous German Made 100% Viscose Kitchen Shammys
, a five dollar value,
as a bonus Thank You
.