Home »

Shammy
Shammy Chamois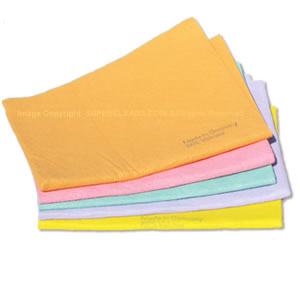 Large 27 x 20 inch 260 gram Super Shammy available in wholesale lots of 100 range for $0.85 to as low as $0.79 each!
Our Shammy (Chamois) from Germany is Super Absorbent. NEW! Each genuine Supercleans German shammy now has our unique "Zolltarifnummer" (Customs Tariff Number) stamped on it as required in the EU. German made shammies MUST now have tariff numbers to show the true source of the product. The Supercleans shammies are NOT made in China! SUPERCLEANS are the Original US Supplier of viscose shammies since the mid- 1980's. Shammies are also known as chamois or shammy. Order shammies by the bag with price breaks at 10 bags or more and at 700 bags or more per order. Call us at 412-429-1640 to order your chamois products.

The material is 100 percent non-woven viscose so it wipes up like a towel, dries like a chamois, and absorbs liquids like a sponge. Our man made Chamois is created in a special process spun with warm air- making our Synthetic Chamois (Shammy) Cloths super absorbent. Like a leather chamois, they are lint free, strong, and soft. Our Shammy is scratch free on any surface, washable, reusable, and may be cut to any size. The Shammy lasts for years and are impossible to tear or unravel. They are not made from animal skins so they resist absorption of odors and mildew better than a natural chamois. Our Shammy also stays soft after use and requires no special care other than initial sizing, unlike natural chamois.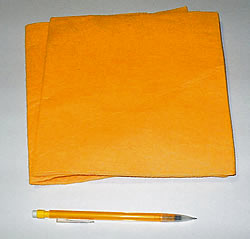 As low as $0.26 each in wholesale lots- Kitchen Size 15.5 x 15.25 inch 140 gram Super Shammy available in Blue and Yellow. In wholesale lots pricing is 26 cents each. Pricing is subject to change based on current exchange rates.
Contact us to buy Wholesale Chamois towels in large lots (Sports Size Super Absorbent) and Large Super Shammy towels or order shammy samples.
Our Lint free Chamois - Shammy cloths have hundreds of uses:
Super absorbent shammy for spills- can absorb up to ten times it weight in liquids.
Window Cleaning- lint & streak free.
Car Detailing- use our man made Chamois to wash, dry, wax, or polish your car, RV, motorcycle, or boat.
Carpet Cleaning- Super absorbent- soaks up spills in carpet and padding.
Pet Grooming- you'll love our Chamois as a pet grooming towel.
Replace Paper Towels- save on paper towels and the environment.
Chamois cloths are a re-usable cleaning supply. We've had customers tell us they have had our shammy last over ten years of regular use!

Contact us to Buy Chamois in Wholesale lots or order shammy samples.

Important: Chamois cloths are not made of micro fibers. Viscose is a natural material made from wood cellulose. Microfiber cloths may scratch fine finishes if used with dirt trapped inside them. Shammies are better for polishing and drying fine surfaces than microfiber. Simple rules: use a microfiber cloth for cleaning, shammy cloth for drying, spills, or polishing.