Home »

Potato Chip Maker
The Microwave Chipper- Make potato chips at home- Wholesale AS-SEEN-ON-TV Product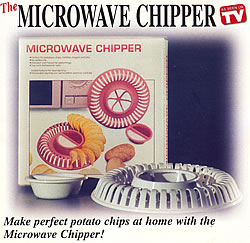 Now you can make crispy potato chips in your microwave at home in just minutes!

You can now make your own snack foods in a healthier way with your microwave. Make crunchy and delicious fat-free snacks in minutes with no frying, less calories and no added oils!
The Micro Chipper makes delicious potato chips, waffle chips, bagel chips, and steamed vegetables. Easy to use and store. Designed for microwave use only. Dishwasher-safe in the top rack.

Item MC121 Microwave Chipper

Sorry, the chipper is out of Stock. Buy the Chipper for only $7.99 $4.99 and add a SECOND chipper for only $4.00 more when you buy it now. Get TWO microwave Chippers now for only $8.99. Makes a great gift!