Home »

Bacon Rack
Bacon Cooker- Wholesale AS-SEEN-ON-TV Product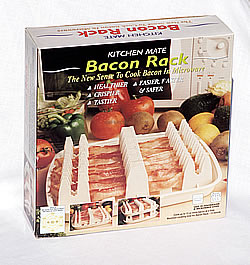 Now easily cook up to 12 delicious slices of bacon in the microwave at one time with no mess!
Do you like your bacon tender or Crisp? It's your choice and it's so easy. Kitchen Mate makes healthy, crispy and tasty bacon faster, easier and safer than in a frying pan or griddle without heating up your whole kitchen.
Includes
1 Bacon Rack
1 User Guide
2 Fixing Skewers- to hold bacon slices in place while cooking
The Kitchen Mate Bacon rack is easy to clean- simply pop it in the dishwasher.
No More Messes- no sopping up grease with paper towels.
These convenient bacon racks are also stackable- so for your next breakfast feast you should have a second bacon rack handy as well.
Each rack measures approximately 9 3/8 inches by 10 inches.
Item K188
Kitchen Mate Bacon Cooker Rack
Buy the Bacon Cooker Rack for only $7.99 $4.99 and add a second bacon rack for only $4.00 more when you buy it now. Get TWO bacon cooker racks for only $8.99.