Home »

Chamois Online Shammy Special
Chamois Shammy Sampler Special- Six for as low as $9.95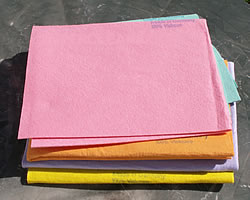 Chamois- You get 3 of the Large 27 x 20 inch and 3 of the Kitchen 15 x 15 inch now get Six chamois for as low as $9.95!
Our Chamois cloth (Super Shammy) from Germany is Super Absorbent. The material is 100 percent non-woven viscose so it wipes up like a towel, dries like a natural chamois, and absorbs liquids like a sponge. Like a leather chamois, they are lint free, strong, and soft. Our synthetic Shammy is scratch free on any surface, washable, reusable, and may be cut to any size. Better than chamois leather, they last for years and it's impossible to tear or unravel them- wow! Shammys are not made from animal skins so they resist absorption of odors and mildew better than a natural chamois. Our Shammy also stays soft after use and requires no special care other than initial sizing, unlike natural chamois.
You may buy your sample lots of shammys on this page, to buy Wholesale Chamois towels in larger lots please contact us. Supercleans are the original and largest importer of German Chamois so you will get the best quality and pricing when you buy from us.