Home »

About Us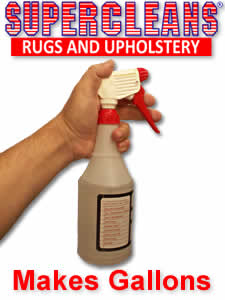 Who we are
We are the makers of SUPERCLEANS, a safe and environmentally friendly all-purpose cleaner which has been on the market since 1974.
We supply SUPERCLEANS to our wholesale distributors for sale and home shows and trade shows and fulfill reorders and new customers on the Internet (since 1997). We also offer a variety of unique products to our wholesale distrbutors which compliment SUPERCLEANS.
We are one of the largest wholesale distributors of shammys (chamois) in the USA. Please contact us for wholesale pricing on shammys or SUPERCLEANS.
ABOUT SUPERCLEANS
SUPERCLEANS is often imitated but never duplicated. SUPERCLEANS is the original all purpose cleaner for rugs and upholstery. There is only one way to be sure you have the best quality all-purpose cleaner- buy it from the maker right here.
SUPERCLEANS is environmentally friendly by design
SUPERCLEANS was on the market long before other companies went "green" or "orange". We have always been RED, WHITE, and BLUE, and we have a simple green policy; instead of buying dozens of "green" products, just get ONE, mix and fill the bottles yourself. You'll save tons of time and money, we get a customer for life, and thousands of bottles never need be recycled due to the savings we all enjoy. With SUPERCLEANS, life is good.
SUPERCLEANS Formula
The formula for SUPERCLEANS is a trade secret. As SUPERCLEANS is non-toxic, we only say a few general things about the products ingredients. SUPERCLEANS contains anionic and nonionic surfactants, wetting, penetrating, and suspending agents. We leave it to the user to determine the suitability of the use of the product. We also recommend you keep out of reach of children and of course do not put it in your eyes or eat it- it is not food.