Home »

PVA Mops
Wholesale PVA Mops SOLD OUT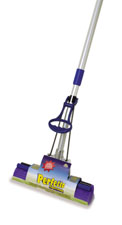 10X PVA BIG BLUE MOP
Sorry but we've SOLD OUT of the Perfetti PVA mops due to popular demand. Please contact SUPERCLEANS for future wholesale orders.
Works 10 times faster than ordinary mops
Cleans virtually any mess in minutes
Works on almost any surface in your home
Super Absorbent
Cleans and dries in seconds
Sweeps and mops in one step
Telescoping handle
One Finger ringer
One Step Clean-Up
The surface of the mop actually attracts dirt, dust and grime. You can mop and sweep in one easy step, and it actually dries as it cleans!
The super absorbent vacuum action of the PVA BIG BLUE mop sucks up giant messes like a magnet without spilling a drop. The mop head features innovative scrubbing ridges to remove stubborn messes easily.
One Finger Ringer Design keeps your hands clean and pushes food debris and bacteria out of the mop, keeping it clean and hygienic.
Sold elsewhere for $19.95